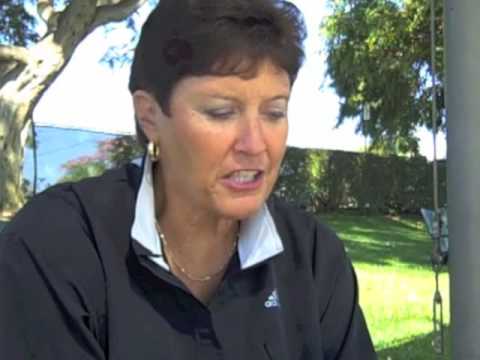 No matter how long we coach, no matter how much we grow as people, some of our athletes will still bug us!   I loved it when my athletes became juniors and seniors – they finally knew how best to deal with me.  The first few years were often an arduous training process on how to best interact with one another.
I am all about shortening the learning curve whenever possible.  In my recent Inside World Class Coaching interview with Cal swim coach Teri McKeever, I discovered a brilliant way to address our pet peeves with our athletes–tell them up front!  Coach McKeever is all about effective and efficient relationships with her athletes.  In order to avoid the headaches and lost time around reacting to things that drive her crazy, she simply tells her athletes up front what works and doesn't work for her.
McKeever's list isn't right / wrong, good or bad.  It just is.  She's been coaching long enough and worked on herself long enough that she simply knows what her pet peeves are AND that they are likely not going to change.  So instead of dealing with the frustration of training her swimmers how best to approach her, she simple tells them early on.
"Certain things bother me so it's best if you learn it now.  If you want something from me here are the best ways to get it:"
Examples include:
Be On Time!
Help set up the pool
Be warmed up and ready to go when practice starts.
Don't bring up an individual issue right at the beginning of practice.
If you want an individual meeting, tell me in an email and let me know what it's about so I can prepare.
Coach McKeever and her assistant  also hand out a sheet detailing who handles what.  It includes
Equipment.  See assistant coach.  Don't come to me if your paddle broke – see Kristen.
Scholarship.  See me.  Don't go to assistant to talk about your scholarship.
Recruiting
Travel
This way the athletes know who to go to for things AND they get to see in black and white that's a lot more to coaching than just showing up for practice.
Ok coach, your turn.  Spend a few minutes writing out your "Pet Peeve" list or your "How to best get along with me list" and share it with your team.
Good Luck!
Flying home yesterday on Southwest, I came across an article about the book What Every Body is Saying, by Joe Navarro. Joe's been studying non-verbal behavior for over 30 years – Twenty-five were spent in the FBI catching spies.
I loved reading what my different poses mean to other folks. Knowing that a large percentage of our communication with our players is non-verbal, I became fascinated to learn how I could be more intentional with my physical messages.
Here are a few examples:
Standing With Hands on Hips
Use It When you feel you're being bullied. By putting our hands on our hips, we make ourselves look strong and powerful. It says, "I am standing my ground."
Avoid It If you want to appear calm and approachable. It's a very territorial stance—it makes you larger—which is why you often see people do it when they are in a heated discussion.
Crossing Your Arms
Use It To demonstrate that you don't like what you heard yet you don't want to just say so. Crossing your arms can also say, "I am here, but I don't agree with you."
Avoid It When an athlete wants to discuss an issue. Crossing your arms can be perceived as a blocking behavior. Keeping your arms at your sides or your fingers intertwined below the belt line makes you look friendlier.
Shaking With Both Hands
Use It Exclusively with your grandmother. Only she will appreciate it.
Avoid It At all costs. This is, by every account, the worst handshake you can give. Nobody likes it. Do not use it with a recruit's parents. Politicians think it scores points; it doesn't.
Placing Hands Behind Back
Use It To establish formality and decorum when necessary, or when you wish to be alone.
Avoid It When you want others to feel comfortable. The regal stance implies that formality and distance are appreciated. It makes you look standoffish, distant, and unapproachable.
Since the vast majority of our nonverbal cues are driven by our subconscious mind – they are important indications of how we are feeling and what we're thinking. Pay close attention to what your body language is saying to your team and vice versa!
If a team is a reflection of its head coach, then the Cal men's basketball team is in great hands.
Smart. Steady. Calm under pressure. Professional. These are just a few of the characteristics I'd use to describe Cal head coach Mike Montgomery.
He has certainly put his mark on the program in his first two seasons as the Golden Bears head coach.  I was one of the fortunate ones crammed into Haas Pavilion on Saturday to watch the Montgomery led bears end a 50-year wait for a Pac-10 title.  It was awesome.
As much as I enjoyed the game itself, I found my self studying Coach Montgomery and taking mental notes.  What was the difference?  What did Mike's crew bring to the party to turn things around is such a short time?
Now, I don't know and "X" from an "O" when it comes to basketball strategy.  But I do have a keen eye when it comes to coaching in general.  Here are my observations:
Coach Montgomery sits most of the time vs pacing the sidelines
He appears poised and in control to his players and the fans
He talks calmly to his assistant coaches and his athletes
When Coach Montgomery does rise to his feet and raise his voice – he does so with purpose, poise and passion.
He uses "trigger words" and signals to get his point across rather than shouting a long unintelligible monologue that no one can hear.
Finally, he let's his players play through their mistakes and cold spells vs yanking them off the floor at the first sign of trouble.
So it's basically the same players yet a drastically different result.  And what does that tell me?  It takes good to great "horses" to win yet it takes good to great coaching to win championships.